A Great View on a Clear Day!
Biblical Israel Ministries & Tours (BIMT) is all about teaching the Bible in the context of the land of Israel and other biblical countries (Jordan, Egypt, Turkey, Greece, and Italy). We teach the historical geography of the Bible as well as archaeology. We aim to make connections with the Bible whoever we go. In this post, we make many connections with the Bible from the top of an ancient palace-fortress built by Herod the Great. It is called Herodium.
When traveling to Israel with groups, we strive to help "connect the dots" between the Bible and the land of Israel. This can happen when we go to archaeological sites. It also takes place when we travel to certain vistas to encounter the surroundings. On this clear (and very windy) day, we all enjoyed a spectacular view from Herodium. In every direction the visibility was superb! We could clearly see the hills of Jerusalem to the north, the area of Bethlehem to the west, Tekoa to the south, and the Dead Sea and Judean Desert to the east.
Herodium was where the body of Herod was buried. He died in 4 BC.
"When traveling to Israel, sometimes it's the view we're after, not merely going to a site to see ancient ruins. In this case, the view from the top of Herodium was incredible in all directions!"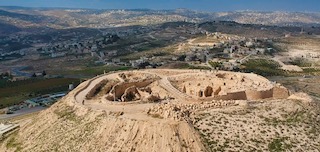 I hope you enjoy this video. My apologies if you can't quite hear my voice because of the wind. 🙂
If our ministry (BIMT) can be of any service to you, please let us know. We offer highly biblical, non-touristy trips to Israel and other lands of the Bible. We see many excavations of sites. Like Dr. Bolen and his teaching ministry, BIMT is all about helping people understand and bring to life the world of the Bible.
In partnership with BIMT, we also now offer 
The Institute of Biblical Israel. 
To date, one course has been developed and offered,
Physical Settings of the Bible
. Dr. DeLancey is the instructor for this course that includes 7.5 hours of teaching. Go
HERE
to check out 
The Institute.